Pun Pun now has a new and growing line of products for sale.  Our products are homemade at our farm, using recipes we've developed over time and made my hand.  We use our own organic ingredients and try to source as much of our other ingredients from other organic producers in the area, with the intention of helping the organic movement to grow by creating a market for their produce.
Pun Pun products are available at our coffee shop at Pun Pun farm and also various shops in Chiang Mai including Bird's Nest, Dindee Cafe, and at our new restaurant and shop near airport plaza (see Restaurant page for more info) opening spring/summer 2014.  We also send products by order.  To order any of our products contact:  Jeap at 082.392.1364 or if you need an English speaker, call Krit at  081.470.1461 
Organic Seasonal Herbs and Teas
We grow and dry our own organic herbs and teas such as roselle and oregano.  Right now we have dried roselle tea available we we grew, dried, and packaged at the farm.  Instructions for brewing are on the bag.
Organic Sun-dried Seasonal Fruits
We also grow and dry seasonal organic fruits from the farm such as whole dried bananas and make mango leather.  All of our dried fruit products have no sugar added and are sun-dried, not baked to maintain the natural flavor and goodness of the fruit itself.  We have organic dried bananas available now.
Kaffir Lime Shampoo
Kaffir Lime has been used traditionally in Thailand for washing and conditioning hair.  The natural oils of the kaffir lime peels leave hair feeling clean and soft.  We add no perfumes or preservatives, allowing you to enjoy the pure, refreshing citrus scent of kaffir lime.  We have a foaming and non-foaming variety.
Homemade Rice Husk Charcoal Soap
Our homemade soaps are made in the traditional way.  We use coconut and palm oil and add rice husk charcoal for it's detoxifying and exfoliating properties.  We offer two varieties, one with fine charcoal and the other for extra exfoliation.  We use no synthetic perfumes, only pure Neroli (orange blossom) essential oils for scent.
Nut Butters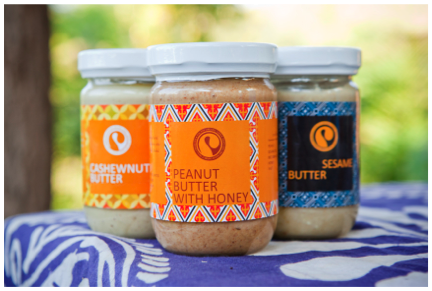 Cashewnut Butter
Cashewnut Butter with Honey
Peanut Butter
Peanut Butter with Honey
Our nut and seed butters are homemade with our nut grinder at our farm.  Because of this we are able to use the oils extract from the nuts in the grinding process.  We add just a little salt, oil and some pure honey to the peanut butter, allowing the natural flavor of the seeds and nuts to come through. 
Homemade Granola 
We have come up with our own recipe for honey baked homemade granola with dried bananas or raisins, pumpkin seeds, cashew nuts and oats as well as local popped rice to add a crispy texture.  Delicious served with cold milk, eaten on yogurt or ice cream or alone as a snack.
Homemade Organic Jams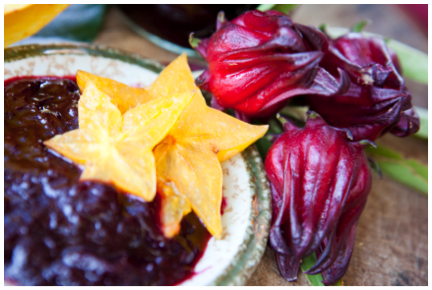 Roselle Jam
Roselle and Starfruit Jam
Mulberry Jam
We grow organic fruits as well as do other organic farmers in the area, which we use to make homemade jams with the seasonal fruit to be enjoyed longer.  We add just enough turbido sugar to sweeten it up but maintain the original flavor and texture of the fruit.